TSUNAGU Research Project 2022- Students delivered Innovative Midterm Presentations!
Last July 30, 2022 (Saturday) from 8:30am to 11:30am GMT+8, the Midterm 1 for the TSUNAGU Research Project 2022 was held. For this year, Students from Philippines, Malaysia, Japan and Singapore presented their ideas to solve the issues in Philippines under the category of Jiyuu Category and Kadai Category. The Jiyuu category consists of Energy, Waste and Water where as Kadai focuses only on Energy.
Due to the present COVID situation and logistical concerns, the Midterm Presentation 1 was conducted online. It started with the opening remarks from Dr. Satomi Maeda (General Manager, Education Research institute, Leave a Nest Co., Ltd., in Tokyo, Japan) and followed by Special Remarks by Mr. Keith Tan, CEO and Founder of Crown Digital IO, one of the Supporting Partners for TSUNAGU Research Project 2022. He shared his personal story of how he started a coffee shop 4 years ago where he saw the possibility of using Science and Technology to solve some of the problems like labour shortage through an automated robotic coffee machine. He inspired the students to think beyond boundaries, and also encouraged them to create ideas, combined with a brilliant and open mindset to use Science and Technology to solve world issues.
Afterwards, the students were separated into their respective groups through the use of breakout rooms. Here, each school presented their research topics and how they plan to solve those issues. Then, one representative of each group summarized each of their issues and presented it to everyone outside their group.
List of schools participating in TSUNAGU Research Project 2022:
From Japan
Seigakuin Junior and Senior High School
Dalton Junior and Senior High School
From Malaysia
Sekolah Menengah Usahawan (SMU) Al-Amin
Sekolah Seri Puteri
Sekolah Menengah Kebangsaan (SMK) Seri Bintang Utara
Sekolah Menengah Sains (SMS) Tengku Muhammad Faris Petra
Sekolah Menengah Tinta
From Singapore
Clementi Town Secondary School
From Philippines
Philippine Science High School – Bicol Region Campus (PSHS-BRC)
Claret School of Zamboanga
Philippine Science High School – Western Visayas Campus (PSHS-WVC)
Philippine Science High School – Cordillera Administrative Region Campus (PSHS-CARC)
UP High School in Iloilo
Group 1 Summary Presentation Slide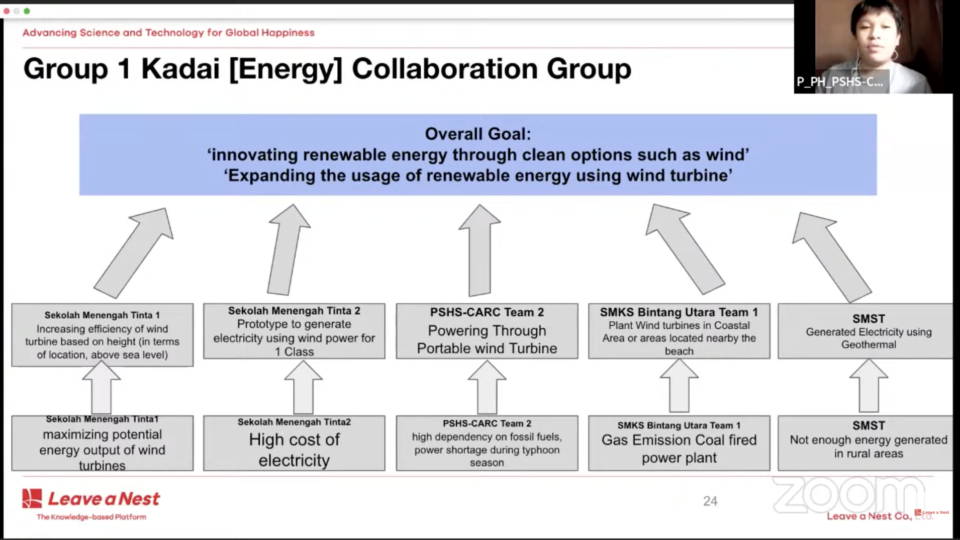 Group 2 Summary Presentation Slide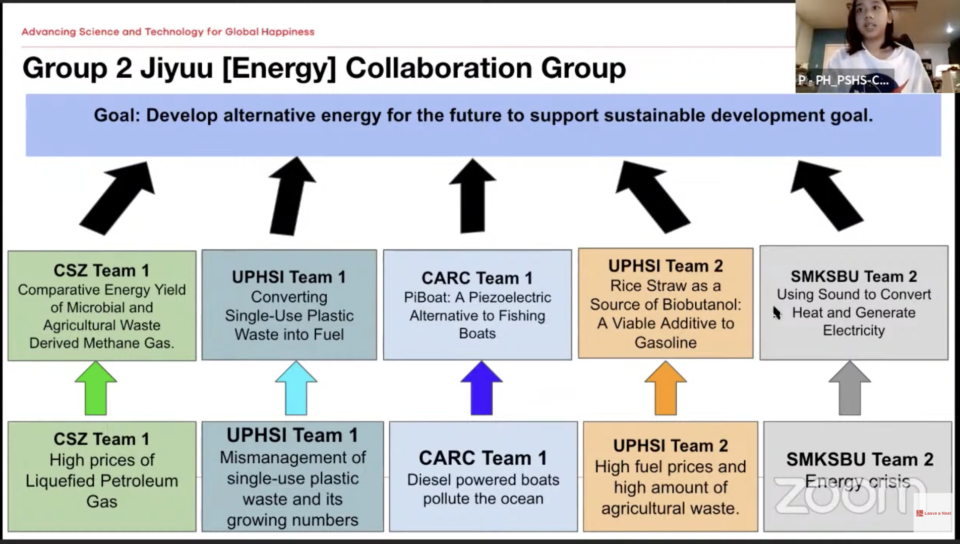 Group 3 Summary Presentation Slide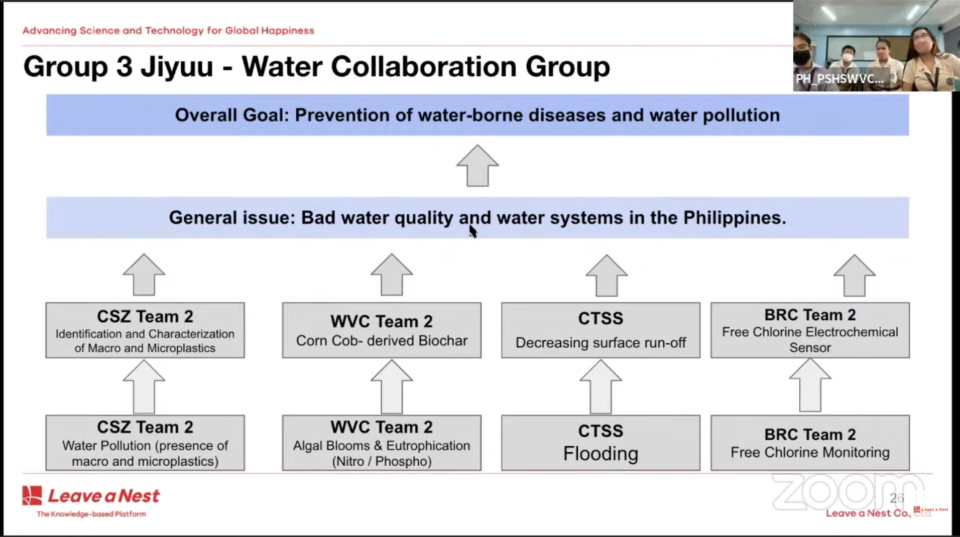 Group 4 Summary Presentation Slide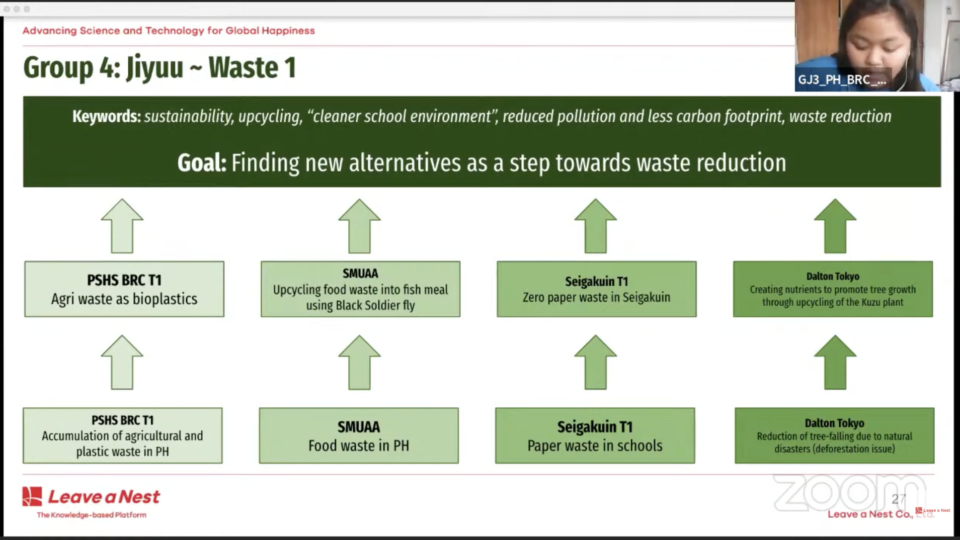 Group 5 Summary Presentation Slide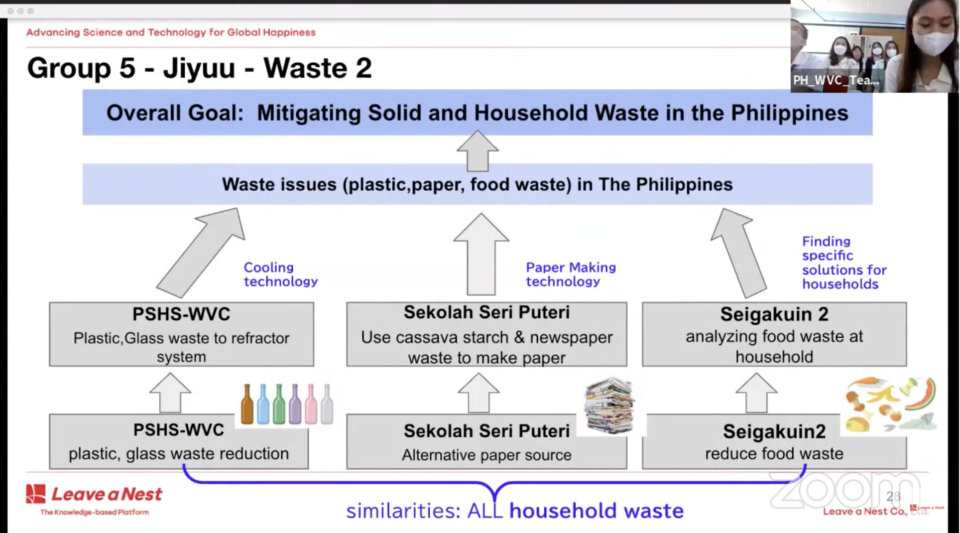 At the end of all the presentations, Ms. Julienne Stephanie Fabie-Agapin, the representative external mentor and a faculty researcher from Western Mindanao State University gave her insights and journey under the TSUNAGU Research Project.  Finally, Dr. Yev Dulla (Manufacuturing Development Division, Leave a Nest Co., Ltd. and Managing Director, Leave a Nest Philippines Inc.) gave his closing remarks and comments about the students' research after the presentations. They gave insightful advice on how to tackle their research and shared some of their experiences, and also advised the students to also hopefully do experiments on the field if possible to get more accurate results since results from the lab usually vary when implemented to the field.
With the completion of Midterm 1, the next step for the students is to proceed doing their research and experiments before they meet again at Midterm 2 on October to present their updated findings.
In the meantime, watch out for updates regarding each school's researches in the website blogs located here.
For more information, do not hesitate to drop us an email at [email protected] attention to:
JP: Dr. Satomi Maeda / Dr. Taishi Yazawa
PH: Dr. Yev Dulla / Mr. Bryan Foronda / Mr. Ludho Madrid
MY: Mr. Nur Ahmad Zaim Hussin / Ms. Aisyah Adul Hamid / Dr. Ezral Ghazali
SG: Dr. Kihoko Tokue / Dr. Mango Loo / Mr. Sivakumar Thamizvanan / Mr. Ryan Chui