Students charge up in TSUNAGU 2022 Icebreaker and Science Experiment Workshop!
Few weeks after the Kickoff of TSUNAGU Research Project 2022, the TSUNAGU Icebreaker and Science Experiment Workshop were held last June 25, 2022. Students from Japan, Malaysia, Philippines, and Singapore bonded and got to know each other through icebreaker activities and learned concepts of electromagnetism and energy generation through science experiments.

The first icebreaker activity was "Act Fast". Each team was given one minute to introduce themselves, tell their favorite dishes, and their hobbies.The second icebreaker activity was Wordle. The students had fun while guessing words related to TSUNAGU 2022's theme like "solar", "fuels", and "mountain".

After the ice breaking session, Dr. Yevgeny Aster Dulla explained the scientific method to the students. He also emphasized the importance of research and inspired the students to become researchers. After Dr. Dulla's short lecture is the introduction about the science workshop from Bryan Foronda. He discussed the environmental issues of the Philippines, innovations related to energy, and types of electricity generation.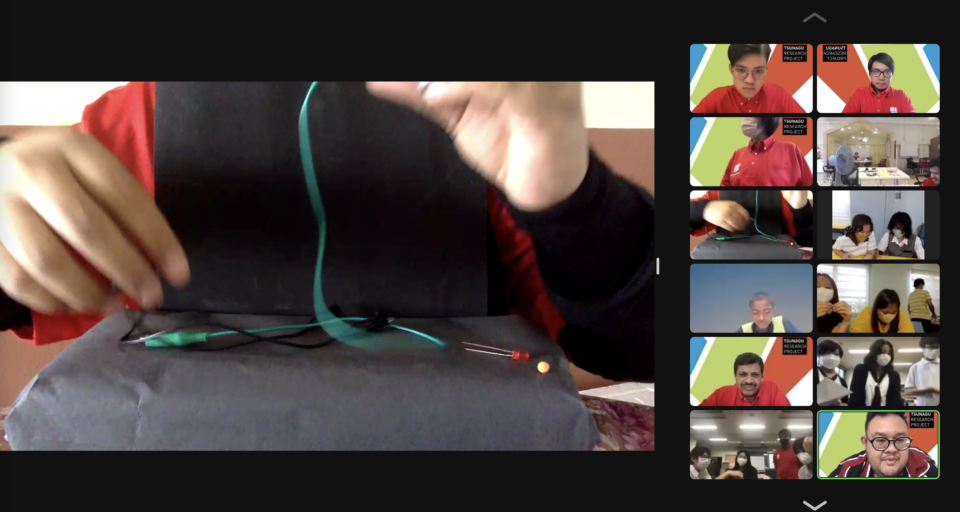 For the workshop proper, the experiments' procedures were demonstrated by Aisyah Abdul Hamid and Dr. Ezral Ghazali, while the theory behind the experiments were discussed by Mr. Foronda. The goal of the workshop is for students to be able to discover ways of generating electricity. The students were given freedom to do the experiments and change the variables by themselves. Facilitators from Leave a Nest guided the students, making sure that no student was left behind.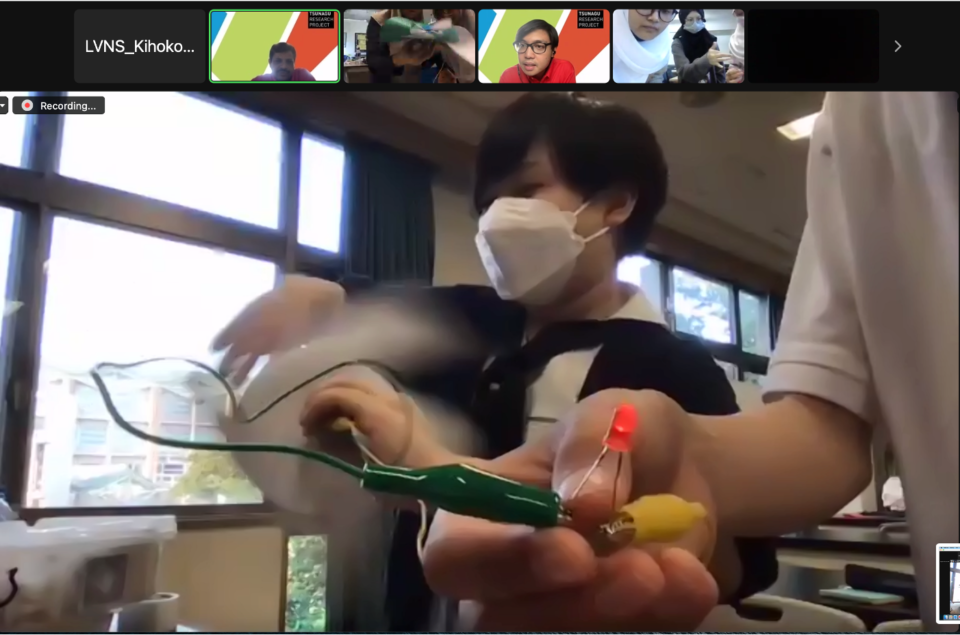 In the first experiment, students made a simple electromagnet by coiling a copper wire around an iron nail and connecting the wire to a battery. In the second experiment, students made a small wind-powered generator using a generator, light-emitting diode, and paper pinwheels. For both experiments, students manipulated the variables (number of coils, speed of pinwheel, etc.) that affected the results. After the workshop, the organizers together with Sivakumar Thamizvanan shared ideas on wind turbines and possible research ideas for Kadai teams.
After the event, the students will come up with their research topics with the guidance of the external and Leave a Nest mentors. The Midterm Presentation of the students' research proposals will be held virtually by the end of July.
You can also check out more details through the official website of the TSUNAGU Research Project.
Kindly check past TSUNAGU Research Project news releases here:
TSUNAGU Research Project 2022 Kick-off News Release – "Connecting and empowering students across the world to discover and solve environmental issues through scientific research"
For more information, do not hesitate to drop us an email at [email protected] attention to:
JP: Dr. Satomi Maeda / Dr. Taishi Yazawa
PH: Dr. Yev Dulla / Mr. Bryan Angelo Foronda / Mr. Ludhovik Luiz Madrid
MY: Mr. Nur Ahmad Zaim Hussin / Ms. Aisyah Adul Hamid / Dr. Ezral Ghazali
SG: Dr. Kihoko Tokue / Dr. Mango Loo / Mr. Sivakumar Thamizvanan / Mr. Ryan Chui