Connecting and Having Fun: Tsunagu 2021 Bonding Session
Midway through the Tsunagu Research Project 2021, the Tsunagu Bonding Session was held last October 29, 2021. Through this event, students from the different participating schools were able to connect and have fun together while playing communication games. Mentors of the program also joined the students in the fun.
The first game played was Gartic.io, where the students and mentors showcased their art skills to let the others guess what they are drawing. The participants also displayed their competitive spirit in speed typing to get more points and be one of the top-scorers. At the end of the game, the top 5 scorers included students from Clement Town Secondary School, University of the Philippines High School in Iloilo and SBPI Gombak.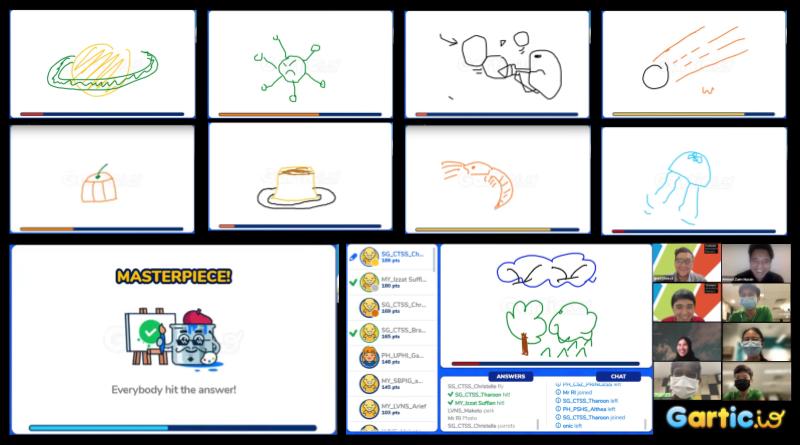 Following Gartic.io is a game of Charades, where the representatives of the randomized student grouping acted out different phrases for their teammates to guess. Before the start of the actual game, the students were given 10 minutes to create a team name, and form strategies on how to approach the acting of the phrases. Through this, they were also able to learn more about each other and find similarities, helping them form new friendships. During the game itself, some students even stood up from their chairs to act out the difficult phrases and get more points.
At the end of the event is a short speech from Mr. Nur Ahmad Zaim Hussin, emphasizing the importance of connecting with other people to conduct research and face challenges in the future. The winners and participants of the activities will be awarded their choice of prizes that may help them connect and go through their Tsunagu journey (e.g. a special feature on the website, a bonding time with a mentor of their choice).
After the event, the students will continue to work on their research and presentation with the help and guidance of their mentors and teachers. You can check out updates of their research on the website blogs located here.
The Final Presentation of the Tsunagu student researches will be held on December 19, 2021 at the Science Castle Japan.
For more information, do not hesitate to drop us an email at [email protected] with attention to:
JP: Dr. Satomi Maeda or Dr. Makoto Togami
PH: Dr. Yev Dulla or Mr. Ronrick Arayata or Ms. Ronezza Delos Santos
MY: Mr. Nur Ahmad Zaim Hussin or Dr Arief Izzairy Zamani
SG: Dr. Kihoko Tokue or Dr. Mango Loo