An International Learning Experience: Tsunagu 2021 Midterm 1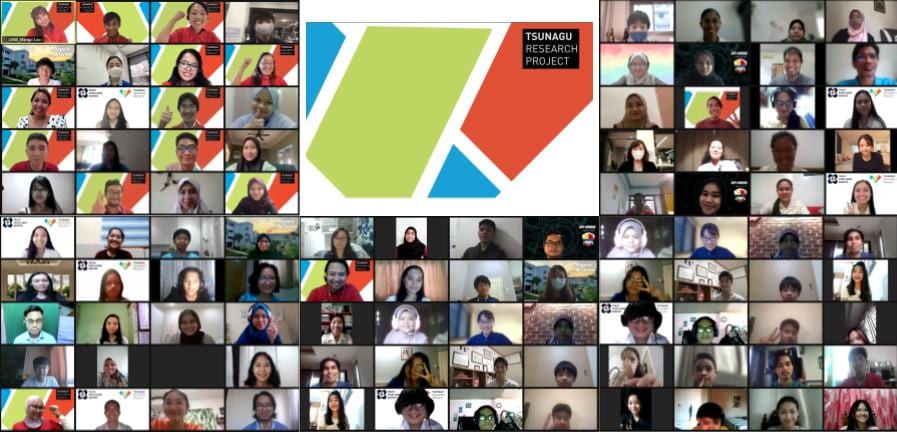 On July 15, 2021 (Thursday) from 4:10pm to 5:40pm GMT+8, the Midterm 1 for the TSUNAGU Research Project was held. The purpose of this event was to bring the students together to present how their research would impact the palm oil industry. There were a total of 13 schools with a sum of around 120 students coming from Japan, Philippines, Malaysia, and Singapore. Due to the current pandemic, this event was held fully online.
List of schools participating in Tsunagu Research Project 2021:
Reitaku Senior High School
Mita International School
Dalton Tokyo Junior and Senior High School
Claret School of Zamboanga City
University of the Philippines High School in Iloilo
Philippine Science High School – Western Visayas Campus
Clementi Town Secondary School
SM Sains Tengku Muhammad Faris Petra
SBPI Gombak
Sekolah Menengah Usahawan Al Amin Ulu Klang
Sekolah Menengah Tinta
SMK Kolombong
SMK Datuk Panglima Abdullah
Our partner for this year's project, FGV Holdings Berhad, introduced themselves at the beginning of the event. Mr Wan Kasim Wan Kadir, General Manager and Head of Sustainability Development, gave information about their company including their company's vision and sustainability agenda to protect the environment. Madam Sharmilah Vetaryan, Head of Genomic Unit of their Research Development arm, delved more on their company's activities to try to ensure good productivity of palm oil while maintaining the sustainability of the environment.
Afterwards, the students were separated into their respective Sustainable Development Goals (SDG) groups through the use of breakout rooms. Here, each school presented their research topics and how they plan to solve those issues. They then summarized each of their issues and presented it to everyone outside their group.
Lastly, Madam Nurul Atikah Ahmad and Madam Ili Bazilah Abd Razak from FGV's Biosolution & Renewable Energy Department, along with some of their colleagues, gave their comments about the students' research after the presentations. They gave insightful advice on how to tackle their research and shared some of their experiences. They advised the students to also hopefully do experiments on the field if possible to get more accurate results since results from the lab usually vary when implemented to the field.
With the completion of Midterm 1, the next step for the students is to proceed doing their research and experiments before they meet again at Midterm 2 in September to present their updated findings.
In the meantime, watch out for updates regarding each school's researches in the website blogs located here.
For more information, do not hesitate to drop us an email at [email protected] with attention to:
JP: Dr. Satomi Maeda or Dr. Makoto Togami
PH: Dr. Yev Dulla or Mr. Ronrick Arayata or Ms. Ronezza Delos Santos
MY: Mr. Nur Ahmad Zaim Hussin or Ms. Ummu Alyaa Binti Hashim or Dr Arief Izzairy Zamani
SG: Dr. Kihoko Tokue or Dr. Mango Loo